Beautiful, guys... thanks much! (By the way, I love how people call it "
The
Sziget".)
Here's the map (the "circle" and "x" marks on the left):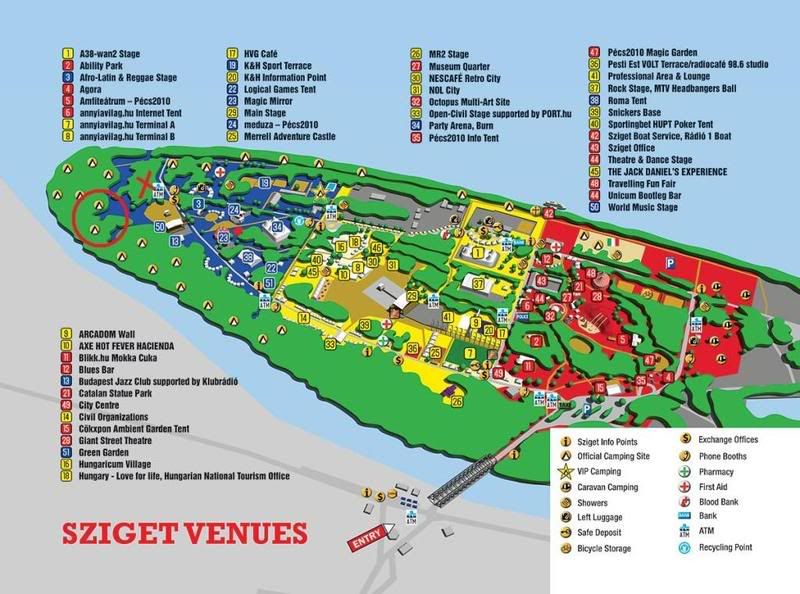 Hi Greg

I am planning to go to, but..slight problem that I have not got ticket yet as I was not sure whether I get my holiday approved :-(
Can I still get them online? If not, could you please advise where from I can obtain them? perhaps do you know anybody whom would have a spare tickets?

Thanks :-)
hi Pavlina!

i am Alkisti ,i will be at sziget.
2 friends of mine have tickets(7 days and for the camping) and they will not come, so if you can;t find tickets tell me to give you their mail.

CU there!
Alkisti,

I do not have my ticket as yet also duo to not having had my availability to attend confirmed earlier.
Do you know whether your friends will still have a ticket which I can purchase.
Do you know the cost for a ticket(7 days with camping)?

CSurfer,
Anthony
Yes, you can still get them online, Pavlína.

If you want to go another route, people were selling their tickets at the gates last year, and I'm sure they will this year as well. (I actually don't have my ticket yet either, but I'm not worried... yet.) And you can always buy a ticket from Sziget at Sziget.

Also, Alkisti may have another option.