# English version at the end #
>>CLICCATE QUI PER ISCRIVERVI A QUESTO APPUNTAMENTO COUCSURFING!
>Vi potete iscrivere da ora agli incontri del week end! :
-
FOL2009: Welcome Party @ Red House !
-
FOL2009: Saturday Night Party @ Nakamal !
-
FOL2009: Visite guidate di Lione
Qualche informazione in più:
La partecipazione di 10 euro comprende:
- La prenotazione, la certezza e la "privatizzazione" di 2 luoghi diversi per le due serate
- Un drink offerto per serata (bibita, birra, kir)
+ un piccolo omaggio a sorpresa sulla città di Lione
Nei pasticci per trovare un couch?
Se, nonostante le vostre ricerche, non siete riusciti a trovare un couch, uno staff di facilitatori è pronto a mettervi in contatto con degli hosts disponibili. Nell'attesa continuate a fare normalmente le vostre richieste di couch, senza dimenticare di allargare la ricerca nei dintorni di Lione, almeno a 15 km.
Sviluppo sostenibile:
La festa delle luci si inserisce nell'ottica dello sviluppo sostenibile a partire dal 2005, limitando il consumo di energia durante l'evento.
Qualche dato che attesta lo sforzo perseguito dalla città di Lione:
- 4 giorni di festa, in totale le spese di elettricità arrivano a 3000 euro;
- dal 2005 il numero dei progetti è raddoppiato ma le spese no!
- La priorità è data infatti all'utilizzo di componenti e materiali a basso consumo (come i LEDs)
Cliccati qui - sotto per vedere il video d'invito CS alla festa delle luci!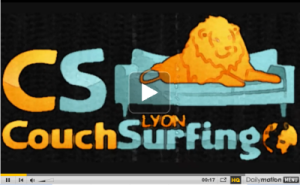 ################ ENGLISH VERSION ###
>>>CLICK HERE TO SUBSCRIBE TO THIS COUCHSURFING MEETING!
And you can now suscribe to all sub-meetings organised during the week-end!:
-
FOL2009: Welcome Party @ Red House !
-
FOL2009: Saturday Night Party @ Nakamal !
-
FOL2009: Guided tour of Lyon !
Some extra information:
Contribution of 10€ includes:
- Reservation, insurance and privatisation of 2 different places
- One drink per evening (soft/beer/kir)
+ Will include a surprise souvenir of Lyon :-)
Need a Couch ?
If despite your searches you don't find a couch, the Help Team will be there to put you in contact with any available hosts. In the meantime, send your requests as normal without forgetting to extend your search to 15 km around Lyon.
Sustainable development :
The Festival Of Lights is part of an ethic of sustainable development since 2005 by reducing power consumption during the event.
Facts testify to the continued effort by the City of Lyon:
- During the 4 days of celebration, the electricity invoice comes to only 3000€.
- Since 2005, the number of projects has doubled but not the invoice.
- Priority is given to the use of LEDs.
Click on the link below to see the video invitation by Lyon CSers for the Festival Of Lights: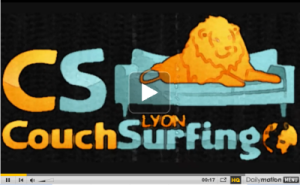 ################ ENGLISH VERSION ###
Schedule
Friday 4th
9pm:
Warm Up Party
with a special gig of our Local CS Singer "Miss Tralala"!
Saturday 5th
2pm:
Visit of the city
5pm: post-visit drink
6pm: Beginning of the Lightings
9pm:
CS LYON 5th BIRTHDAY PARTY
@ NAKAMAL // costume party : theme = "5"
Sunday 6th
10am:
Bicycle Ride
2pm: Old town (St Jean) visits
6pm: Lighting of the city
7pm: Fireworks over the SaÃŽne river
8.30pm:
Drink on the barges of the Rhône river
Monday 7th
2pm:
Let's Play Jungle Speed
6pm: Lighting of the city
9pm:
Quizz and Special Monday Meeting
Tuesday 8th
THE Lightings day
6pm : Lighting of the city
More informations on the meeting page (and sub-meetings) with directions and addresses:
FESTIVAL OF LIGHTS 2009
Link to the official program.
Video
We prepared a short video presentation of the event with some pictures of the Festival (and of the CS parties), so that you can have an idea of what will go on next week-end... It will be a unique moment with a great atmosphere!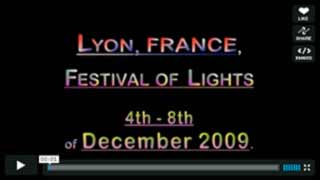 Have a look until the end, the beginning is boring, the following is much more... lively! :-p...
Couch help?
You have sent at least 5 Couch requests already, without any success?
The facilitators team will connect you with some Hosts who still have some available couches, even though it doesn't ensure that you'll find a couch.
Please take time to answer these few questions below, to copy-paste them into a mail and to send them to
Aleyxandra
You'll receive in return a list of available Hosts to whom you can send more requests.
URL of your profile and of the CS who will come with you (* please specify the link to his/their profile(s) ):
Arrival date (first night you need a couch):
Departure date (day you will leave and don't need a couch anymore):
How many people to be welcomed / how many couches needed:
Do you need a parking spot for your car?: Yes/ No